Plastic pallets
Helesi pallets constitute the ideal tool for use in modern logistic systems. With special characteristics such as light weight, robust construction and resistance against chemicals, frost, solar radiance and UV radiation they are highly competitive in relation to wooden pallets since they are moisture-proof avoiding the growth of microorganisms or insects. They can be used under temperatures from -15C up to +60C and are high-resistant to chemical environments.
The dimensions are the appropriate ones for the optimization of the space usage available in trucks, containers and warehouses permitting their use in service containers of production departments. They are constructed from non-toxic 100% recyclable material and so environmentally friendly. These pallets are extremely stackable and achieve ideal transport capabilities. A 90c.m. truck can store up to 2.000 pieces of 5M or up to 2.500 pieces of 4M type pallets.
They offer high quality, the best safety and a long life expectancy ensuring cost effective transportation and the optimal storing solution.
Customized names, logos, instructions, serial numbers and graphics can be embossed or heat-sealed on the body of the box in order to render the classification of the pallets possible.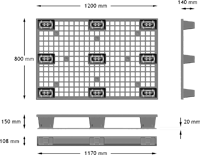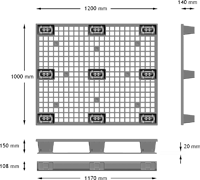 | | | | |
| --- | --- | --- | --- |
| Type | External Dimension | Static Load | Dynamic Load |
| NP–5M 1210* | 1200x1000x140mm | 2000Kg | 1000Kg |
| NP–4M 1208* | 1200x800x140mm | 2000Kg | 800Kg |
| NPT–5M 1210 | 1200x1000x150mm | 2000Kg | 1000Kg |
| NPT–4M 1208 | 1200x800x150mm | 2000Kg | 800Kg |
* without Crossbeams